Q: Is it true mobile auto glass service is as good as in-shop auto glass service?
A: Absolutely! Our service vans are fully equipped with the tools and part necessary to complete each auto glass installation.
Q: What methods of payments do you accept?
A: Visa, MasterCard, American Express, Debit, Cash & Business Checks. We do not accept personal checks.
Q: Do you offer same day service?
A: Yes, in most cases we do.
Q: Do you offer mobile service?
A: Yes, we will come to your home or workplace at no extra charge.
Q: what is your warranty for replacements?
A: lifetime warranty on the workmanship for as long as you own your vehicle.
Q: How long does it take to replace a windshield?
A: most windshields take about an hour to replace some windshields take a little bit longer depending on the features of the windshield.
Q: will you clean up all the broken glass?
A:absolutely! Don't touch that mess and risk getting cut. We'll vacuum all the broken glass when we come out to do the job.
Q: How soon can my auto glass work be scheduled?
A: same day or next day service guaranteed.
Q: What can happen if an auto glass is not installed correctly?
A: Several problems can result if an auto glass in incorrectly installed. They can range from water leaks, wind noise, and glass becoming loose in an accident.
See what are customers are saying about H&A Mobile Auto Glass.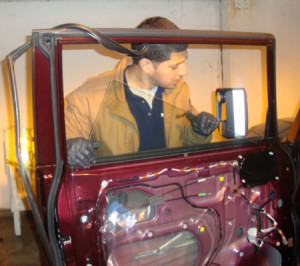 Auto Glass Repair Services